News
Kasabian want own record label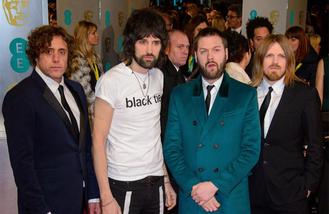 Kasabian want to set up a record label.
The 'Eez-Eh' rockers have revealed they're keen to set up their own company so they can start signing new bands as they want to encourage a wave of outspoken acts.
Guitarist Sergio Pizzorno, 34, told The Sun newspaper: "I'd like to one day. I think about it more and more as we go deeper into this, that I'd like to. I can see what I think is missing.
"I'd like to give opportunities to people that aren't going to say the right thing every time in an interview ... That aren't always going to make everyone happy.
"It's our job to create a question."
Meanwhile, the band has also backed the censorship of raunchy music videos, as frontman Tom Meighan doesn't want his three-year-old daughter Mimi to be able to access provocative clips from artists such as Rihanna and Miley Cyrus.
Speaking ahead of their set at V Festival over the weekend, Tom explained to the Daily Mirror newspaper: "I've got a three-year-old daughter, and when there is someone dancing like a stripper, you know, she is three years old.
"But the kids will get to it no matter what. But then they copy it and pick it up. I don't want my daughter doing that."
Source: www.msn.com
Added automatically
783 views