News
TIFF 2015: Satisfaction for Rolling Stone Keith Richards over solo album and film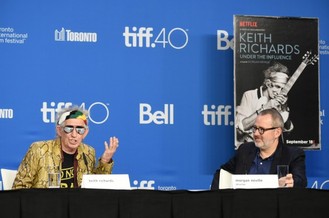 Rolling Stones guitarist Keith Richards has revealed he is evolving and it is "so far, so good", as he unveiled a documentary about recording his first solo album in 23 years.
The musician sported a snakeskin jacket and brightly coloured headband as he arrived at the world premiere of Keith Richards: Under The Influence at the Toronto International Film Festival, accompanied by his wife Patti Hansen.
The film follows Keith, 71, on the road from New York to Chicago to Nashville as he records his new album Crosseyed Heart, but he said the film happened unexpectedly.
Speaking on the red carpet, he said: "I just thought I would make a record and halfway through they said they would make a video and then it grew into a documentary, it was organic."
In the film, which is released on Netflix today, Keith tells Oscar-winning director Morgan Neville: "I'm not getting old, I'm evolving."
Asked at the premiere to expand on how his evolution is going, he said: "So far, so good."
The film examines the rock star's musical collaborators and the guitarist said he is influenced by many of the greats.
He added: "If we stood here all night I could reel off a list, Chuck Berry, Muddy Waters, Ray Charles. I could go on and on and on and throw Aretha Franklin in too."
Keith recently confirmed the Rolling Stones have made "definite plans" to record a new album.
Questioned about the band's return to the studio on the red carpet at the premiere, he said: "They aren't there yet but they are on their way."
Neville, who won a best-documentary Oscar for 20 Feet From Stardom, his film about backing singers, said Keith is the ultimate subject for a music documentary.
"He is about as archetypal rock and roll as you get and part of the film was about realising that there is more than that image of Keith, he is so much more than that. He is actually a living, breathing, smart, funny human being.
"I discovered that he paints and I didn't know that, they are beautiful watercolours. He was painting a ship that has rusted and was sinking in a shallow harbour."
He added that the months he spent on the road with Keith were some of the best he has had.
"This was one of the most fun things I've ever done, he's funny and loose and the making of this film was the same, seat of the pants rock and roll and whatever happens, happens."
Crosseyed Heart is out today and the documentary is streaming on Netflix now.
Source: www.msn.com
Added automatically
740 views