News
Coldplay perform new song at Global Citizen Festival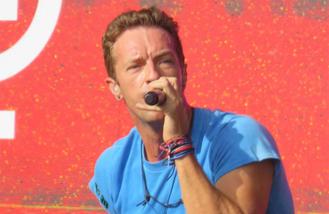 Coldplay unveiled a new song at the Global Citizen Festival on Saturday (09.26.15).
The band's frontman Chris Martin curated the event in New York City at the weekend and the group were the first act to take to the stage in Central Park.
Although their set was hampered by a broken piano which meant they had to scrap fan favourites 'Clocks' and 'Paradise', Chris and co sent the crowd wild by debuting the track 'Amazing Day' - which they had only rehearsed at their soundcheck on Friday (25.09.15).
Lyrics contained in the song included "And the view / the whole Milky Way / In your eyes / I'm drifting away" and "In your arms / I just want to sway / Amazing day".
Coldplay were also joined on stage by Ariana Grande for a rendition of her song 'Just a Little Bit of Your Heart', which was written by One Direction star Harry Styles, and they had to quickly improvise the arrangement as they had previously only rehearsed it on piano, which was out of action for their set.
Messages posted on Coldplay's official Twitter account read: "Our piano broke 1 min before going onstage. No clocks, paradise+collaboration with @ArianaGrande rehearsed only on piano #wingingit ... Thanks @ArianaGrande for lighting up our stage. Your voice is a thing of wonder. Beautiful song by @Harry_Styles (sic)"
Ariana also tweeted about the special duet, writing: "thank you @coldplay it was an honor to say the least #GlobalCitizenFestival (sic)"
Despite their piano problems, the band were delighted with how their performance went.
Another Twitter post read: "Thank you New York City for making an incredible #GlobalCitizen festival & for the amazing feeling there all week. (sic)"
Following their set, Chris later joined Ed Sheeran on stage for a rendition of his love song 'Thinking Out Loud'.
As he introduced the track, Ed told fans: "When they asked me to play, they asked me what song fitted in my sort of vibe, I wanted to play a song with someone who I'm a massive fan and admirer of, so I might as well bring him on stage."
Other performers on the day included Beyoncé, Common and Tori Kelly, and there were appearances and speeches made by Leonardo DiCaprio, Olivia Wilde, Salma Hayek and Kerry Washington among others.
Chris is committed to curating the Global Citizen Festival - an annual concert rewarding attendees for their actions in promoting the goal of eradicating global poverty - for 15 years, with the weekend's event being his first one.
Discussing the 'Yellow' hitmaker's involvement, Global Citizen co-founder Ryan Gall said: "Chris didn't want to do just a one-off. He wanted to sink his teeth into it and really do some meaningful work."
Source: www.msn.com
Added automatically
801 views