News
Matthew Knowles hints at new Destiny's Child LP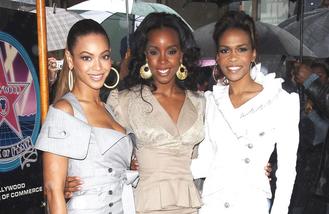 Destiny's Child are reportedly making a comeback.
The 'Survivor' hitmakers are working on new "projects" according to their manager Mathew Knowles - the father of lead singer Beyoncé - and he is "hopeful" they will make a new LP and head out on tour again.
He told The Huffington Post: "I am extremely hopeful that the ladies will come back with an album and a tour. I'm working on a few Destiny's Child projects right now."
The definitive line-up of the R&B group was comprised of Kelly Rowland, Michelle Williams and Beyoncé.
The trio announced their split in 2005 following the release of their 'Destiny Fulfilled' studio album and '#1's' compilation and the conclusion of their 'Destiny Fulfilled... and Lovin' It Tour', but did sign off with a farewell show at the NBA All-Star Game in February 2006.
They have performed together a couple of times since, most notably when Beyoncé performed the Super Bowl XLVII halftime show in February 2013.
Matthew has confirmed one project he is working on with the girl group, their official biography, while he is also in talks about a movie about their career.
He revealed: "My second book will be the autobiography of Destiny's Child. I'm talking to the film and TV community right now, regarding a Destiny's Child movie or TV series of some sort. But I still manage the ladies - Destiny's Child - and I'm hopeful that within the next two to three years we'll see something major come from it."
Source: www.msn.com
Added automatically
678 views