News
Watch Adele's Video For New Single Hello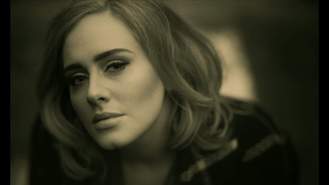 Adele's fans have been whipped into a frenzy for the third time this week after the singer's first single in three years was released.
Hello is the first track from her new album, 25, which will be released next month.
The song was released along with a dramatic black and white video which was shot in the countryside surrounding Montreal.
It is directed by celebrated young Canadian director Xavier Dolan, who helmed feature films Mommy and Tom at the Farm.
The song's release was trending on Twitter on Friday and has received high praise from fans.
@kellysymons91 wrote: "Can't even handle #Adele's new song! So beautiful!! Trying not to cry before going into work lol #Hello."
One fan tweeted: "She's back and amazing!", and another said "How is it possible for ONE human to be so talented?! It's not normal."
Adele gave fans an insight into the album via Facebook and Twitter on Wednesday, three days after she had teased a snippet from a song during an ad break on The X Factor.
Her message said: "My last record was a break-up record and if I had to label this one I would call it a make-up record. I'm making up with myself.
"Making up for lost time. Making up for everything I ever did and never did. But I haven't got time to hold on to the crumbs of my past like I used to. What's done is done."
Adele's third album 25 is released on 20 November.
Source: www.msn.com
Added automatically
828 views