News
Adele ditched album about motherhood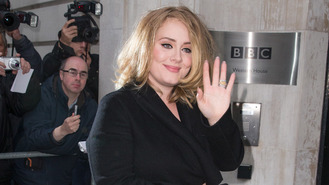 Adele scrapped an entire album about being a mother after deciding it was far too boring.
The British singer caused a storm on Friday morning (23Oct15) when she played her new song Hello for the first time on BBC Radio 1. She admitting feeling emotional before it hit airwaves, saying she was worried she might be sick or accidentally belch, and was elated to hear the positive feedback it immediately received on social media.
The star's last record, 21, was released in 2011 and since then she's found love with Simon Konecki and become a mother to their three-year-old son Angelo. Writing her upcoming release 25 was a difficult process as she wasn't always sure what she wanted to say, especially as she was concerned about being too personal.
"Definitely for this record I would say so, because when I was writing my last record no one was waiting," she told DJ Nick Grimshaw, when asked if she worried about what to say. "There was no one sitting with a pen trying to analyse what I was talking about. It took me a long time to focus on how I wanted to write and what I wanted to write about. I mean I can't write 21 again because I'm not in that place, I'm in a great place. I had to find another part of my life - I did pretty much write an album about being a mum, but that's pretty boring for everyone who isn't a mum (so) I scrapped that."
25 will hit stores on 20 November and the star was happy to talk more about the writing process. She penned many tracks which didn't make the finished LP because they weren't good enough - Adele felt they weren't emotionally true enough and so it knocked her confidence.
That changed with Hello, which was pretty much penned in one sitting. It took Adele "a couple of sessions" to figure out what the chorus as she couldn't work out what to what to say other than the song's title, with the breakthrough coming when she thought about her life as a whole.
"A lot of stuff in my life has changed and not at all because of my career, but just because stuff changes as you get older, and I found myself yearning for my past for no reason specifically other than it had gone," she said. "I missed elements of it, I didn't want to be back there... it's not about an ex love relationship, it's about my relationships with everyone that I love. I miss a lot of those people, it's not that we've fallen out or anything it's just that we've all got our own lives going on... I needed to write that song so they would all hear it."
Source: www.msn.com
Added automatically
854 views