News
Glastonbury 2016 headliner: Ed Sheeran says he won't be topping the bill until he has 'at least three or four albums'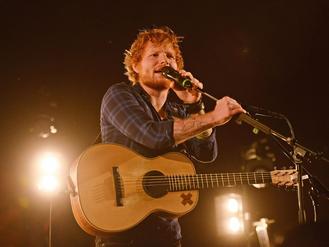 For many Glastonbury-goers, the thoughts of having any mainstream pop artist headlining - from Lady Gaga to Drake - would be the festival's final demise.
Rumours started circulating earlier this week that Ed Sheeran would be topping the pyramid stage after Chris Evans reportedly leaked the news on the newly rebooted TFI Friday.
Fortunately for almost everyone over the age of 14, the singer has denounced the rumour he'll be heading in 2016, telling PA: "The next festival I do will be headlining Glastonbury, but it just won't be next year. I want to be able to have at least three or four albums before I do it.
"There's not going to be an Adele-style break. I'm not having kids, I'm not getting married. But I won't be headlining Glastonbury."
Those of you who bought a 2016 breath a heavy sigh of relief. Anyone thinking of going to 2017 though, remain cautious.
Of course, if you're not a Sheeran fan and he does end up headlining one year, there are a dozen other stages to go watch bands on instead.
So, who will be headlining next year's Worthy Farm bash? Last week, Coldplay were said to have already been booked. If they do play, it will be their fourth time headlining the festival.
Rumour has it Adele, who released a come-back snippet during Sunday night's X Factor, will also top the bill. Foo Fighters are expected to return, having dropped out from 2015's festival due to Dave Grohl's broken leg.
Tickets to the 2016 Glastonbury Festival sold out in 33 minutes, with resale tickets available in Spring next year.
Source: www.msn.com
Added automatically
788 views