News
Graham Coxon: I'll take the blame for Blur's crazy antics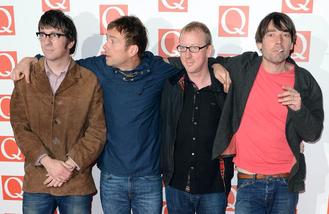 Graham Coxon is happy to take the "blame" for "crazy" things his Blur bandmates have done over the years.
The 'Song 2' guitarist has addressed the indie quartets' past and current mistakes, like the time he called Kanye West a "f***ing idiot", and said he will shoulder the blame because no one else will.
Talking about the band's antics, he said: "We were all nuts we all did crazy things. But because I've stood up and said, "Yeah, I made a mess of things", I take the blame for anything that happens now, in the future or the past. Nobody else has said that they made a mess of it so it falls on me."
The particular "mess" Graham got himself into occurred when he slammed the 'All Day' rapper earlier in the year.
He said in a previous interview: "He's a f***ing idiot, isn't he? Does he even make his own albums?
"People aren't interested in learning instruments and putting effort and time into it. They want it immediately. It's McDonalds, isn't it? It's convenient. "
Elsewhere, bassist Alex James has no idea what the future holds for Blur, but he isn't worried and he finds the prospect of not knowing "quite exciting".
He told Loaded.co.uk: "F**k knows what happens next, but that seems to be our default setting. For a moment I knew what was happening with Blur - there was some shows. But now I'm back to not knowing what's going to happen next, and that's quite exciting."
Source: www.msn.com
Added automatically
844 views