News
David Bowie's new album Backstar was influenced by Kendrick Lamar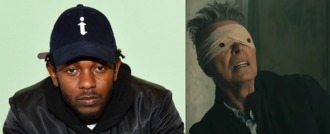 David Bowie is known for his wide-ranging influences, but his latest muse comes as a particularly surprise - Compton rapper Kendrick Lamar.
For his new album ★, "we were listening to a lot of Kendrick Lamar," his long-serving producer Tony Visconti told Rolling Stone.
"We wound up with nothing like that, but we loved that Kendrick was so open-minded and that he didn't do a straight-up hip-hop record [To Pimp A Butterfly].
"He threw everything on there, and that's exactly what we wanted to do. The goal, in many, many ways, was to avoid rock & roll."
As Visconti suggests, we probably shouldn't take this to mean Bowie will be spitting bars on ★ ('Backstar', for those looking to say the title out loud), but the influence is indicative of the album's expected experimental nature - something Kendrick's last album certainly was.
Bowie's follow-up to last year's The Next Day came as something of a surprise to his collaborators.
"He's got a little setup [at his house]," Visconti explained. "And there was no clear communication from him until December. That's when he told me he was ready to make the album."
Backstar will be released on 8 January, 2016, which also happens to be Bowie's 69th birthday.
Source: www.msn.com
Added automatically
766 views