News
Sir Elton John: I've never been asked to play Glastonbury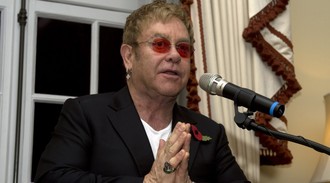 Sir Elton John has revealed that he has never been asked to play the Glastonbury music festival.
Asked on BBC Radio 4′s Today programme if he would play at Glastonbury, he said: "I've never been asked… so I can't answer that question until they ask me."
Sir Elton also blasted politicians in Northern Ireland over same-sex marriage, saying they "need to get their act together".
He told presenter Justin Webb: "If it can be voted for in southern Ireland by two to one, it's not the public vote, it's by the politicians, and the politicians need to get their act together and enter the 21st century.
"I'm sure if there was a vote for the public to vote in it would sail in, as it would in Australia."
When asked if he would perform in Northern Ireland, he said: "Yeah, of course, I'm a musician, not a politician.
"I bring hope through music. I'm not a politician, but I will speak out for rights, as and when I can, and I'll speak about lesbian, gay, bisexual and transgender rights as I'm an elderly gay citizen."
Source: www.msn.com
Added automatically
818 views