News
Tom Jones: 'Rock and Roll Hall of Fame snub puzzles me'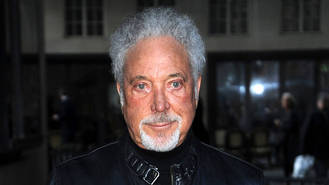 Singer Tom Jones can't help but wonder why he has never been inducted into the Rock and Roll Hall of Fame, despite enjoying hits and acclaim for more than 50 years.
The Welshman's first big hit was 1964's It's Not Unusual, and over the following decades he has topped the charts with songs like What's New Pussycat?, Green, Green Grass of Home and Delilah.
The 75-year-old also recorded the theme for James Bond film Thunderball, and befriended some of the biggest names in the industry, including the late Elvis Presley, but despite all of his fame and success, an induction into the Hall of Fame still alludes him.
"(Rolling Stone magazine publisher and Hall of Fame member) Jann Wenner said, 'Your name comes up every year, but we can't get enough people to vote for you,'" Tom revealed to New York Magazine. "I wonder why, especially since there are some people in there nowadays that wouldn't know rock and roll if they fell over it."
Tom fears the fact that many of his songs have big band-style arrangements is one of the main reasons for his annual snub.
"It's because It's Not Unusual had brass on it," he said. "And then came What's New Pussycat?, which had everything on it."
His new music, however, is very different - his latest album, Long Lost Suitcase, concludes a trilogy of projects inspired by Americana, roots and blues classics and feature simple arrangements.
The singer, known for his powerful baritone voice, had to tone down his vocals a little for the albums - something he has had to do when recording duets in the past.
Tom worked with stars including Stevie Wonder and Ella Fitzgerald on his ABC variety series, This is Tom Jones, which ran from 1969 to 1971, and he admits there was only one singer he could totally let loose with.
"Aretha Franklin was the only one," he said, "There was some volume on that woman."
Source: www.msn.com
Added automatically
843 views