News
Taylor Swift honoured at BMI Pop Awards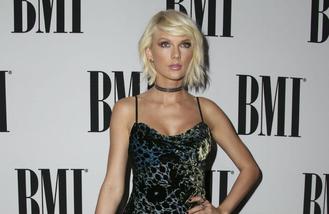 Taylor Swift was honoured with the inaugural Taylor Swift Award at the BMI Pop Awards on Tuesday night (10.05.16).
The 'Shake It Off' hitmaker received the second ever named BMI Pop Award, at the 64th annual Broadcast Music Inc ceremony held in Los Angeles, following in the footsteps of Michael Jackson who was presented with his own gong in 1990.
Speaking on stage at the Beverly Wilshire hotel, as she accepted the award, Taylor joked: "I'm super-relieved BMI decided to give me the Taylor Swift Award. If they'd chosen somebody else, I'd be bummed."
The 26-year-old beauty's DJ boyfriend Calvin Harris was notably absent from the bash, but Taylor's parents and brother were in the crowd to see her pick up her award from Broadcast Music Inc - one of three United States performing rights organisations, along with ASCAP and SESAC.
The pop beauty thanked everyone for "awarding the favourite part" of her life and joked how she has an "issue" called "I love songwriting", which means she has to constantly explain to her loved ones why her art "interrupts" her life.
She said: "This night has been unbelievable. My whole family is here. My brother Austin and everyone else. My dad is filming on his phone.
"Thank you all for awarding my favourite part of my life and all the adventures that this career path has brought.
"My favourite part is when I'm in the middle of a conversation with my friends and my eyes glaze over and I awkwardly run over to a corner. I have to explain to them that I have this issued called: 'I love songwriting so much that it interrupts my daily life'."
The night also saw Taylor pick up the Pop Songwriter of the Year Award for her super-hits, 'Bad Blood', 'Blank Space', 'Style' and 'Wildest Dreams'.
Meanwhile, Taylor was not the only person honoured at the bash, as Barry Mann and Cynthia Weil picked up a BMI Icon Awards for their songwriting while Mark Ronson and Bruno Mars' 'Uptown Funk' was crowned Pop Song of the Year and Sony/ATV was named BMI's Pop Publisher of the Year, for having 23 of the year's most-performed songs.
Source: www.msn.com
Added by AutoAdmin
436 views