News
Michael Sera produces song for Willow Smith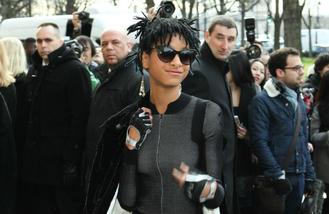 Willow Smith has teamed up with 'Superbad' actor Michael Cera for her new single.
The 15-year-old American singer - who had a debut hit in 2010 with 'Whip My Hair' - has released a new track via her SoundCloud account called 'twentyfortyeight 2.0', on which Cera is credited as the producer.
The ambient track features sung backing harmonies, and Willow delivering spoken-word verses that touch upon self-discovery and commentary on a vacuous society. It is just under two minutes long.
Towards the end of the song, Willow says: "That isn't genuine. That doesn't/Nurture the human soul."
Willow - the daughter of Will Smith and Jada Pinkett Smith - has been uploading a steady stream of new tracks to her SoundCloud the past few months, following the surprise release of her debut album 'ARDIPITHECUS' last December.
The song Cera has created with Willow is a departure from the indie folk sound on his debut solo album 'True That' - released in 2014.
Willow recently took to Twitter to share admiration for Cera, 28, calling him "extremely beautiful" last week before plugging the title of his new movie 'Youth in Revolt'.
On 'ARDIPITHECUS', Willow was credited as the sole songwriter and producer on all but one of the album 15 tracks and her brother Trey Smith provided vocals on three tracks from the album.
In an interview last year, Willow explained the album's meaning, saying: "Ardipithecus Ramidus is the scientific name of the first hominid bones found on earth. I wanted to name my musical compilation after it because, while I was making these songs I was in such a transitional state. Digging deep in the soil of my heart and finding bits and pieces of my ancient self that tell stories, which end up being the lyrics to the songs."
Source: www.msn.com
Added by AutoAdmin
352 views