News
Kesha's Billboard Music Awards performance back on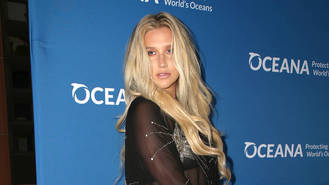 Singer Kesha will perform at the Billboard Music Awards after all.
The Tik Tok star's OK to hit the stage at the T-Mobile Arena in Las Vegas on Sunday night (22May16) was revoked by her former mentor and label boss Dr. Luke when he discovered Kesha was planning to use the gig as a platform to attack him amid a nasty legal battle between the two ex-collaborators.
She insisted there was no plan to bad mouth her boss or his Kemosabe Records executives at the Billboards, and now it appears the label chiefs accept she just wants to put on a show.
In a statement released to Billboard on Thursday (19May16), Kemosabe representatives confirmed the 42-year-old music producer had flip-flopped on consent because he was afraid Kesha would comment on their ongoing legal battle.
"Kesha's performance on the Billboard Music Awards was always approved, in good faith," a Kemosabe spokesperson wrote in the press release. "Approval was only suspended when Kemosabe learned Kesha was to use the performance as a platform to discuss the litigation.
"Now that Kemosabe has obtained assurances, that it is relying upon, from Kesha, her representatives... that neither Kesha nor her supporters will use the performance as such a platform, the approval has been restored."
However, it seems the gig has become even more complicated after Kesha performed the track she was planning to sing with Ben Folds at the Billboard Music Awards during a guest performance at his Orpheum Theatre show in Los Angeles on Wednesday (18May16) night. Ben and Kesha teamed up to cover Bob Dylan's It Ain't Me Babe.
Despite the fact she may have to rehearse a new song in just a days, Kesha is in high spirits.
Soon after news of her Billboard Music Awards performance approval broke, she shared a meme on her Instagram account that read: "You and I are more than friends. We're like a really small gang." And in the accompanying caption she thanked fans for crying out in support of her awards show appearance, writing: "good work animals (nickname for her fans). looks like our voices can be heard after all."
Her most recent feud with Dr. Luke is the latest fall out in the ongoing clash between the pair after she accused him of physically and emotionally abusing her during their 10-year musical partnership.
Source: www.msn.com
Added by AutoAdmin
444 views