News
The Chainsmokers and Coldplay's duet title unveiled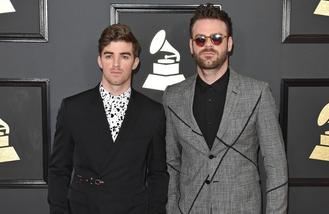 The Chainsmokers' song with Coldplay has been confirmed on Spotify.
The chart-topping electronic duo - comprised of Andrew Taggart and Alex Pall - and the 'Hymn For The Weekend' hitmakers have recorded a track titled 'Something Just Like This' and the song has been advertised on the paid-for music streaming service, although it's not been uploaded for users to listen to as of yet.
The 'Closer' hitmakers previously shared clips on Instagram in the studio with Coldplay's frontman, Chris Martin, and the popular DJs confirmed they could be releasing new music with the 'Up&Up' singer in September last year.
Speaking exclusively to BANG Showbiz about the potential collaboration, they said at the time: "We don't want to jinx anything or give away too much but that guy and that experience were one of the most wonderful moments we have ever experienced.
"And we may or may not have something really special in the pipeline."
The 'Selfie' stars said their sessions with Chris inspired them to be "better" people and they enjoyed speaking to him about their future.
They said: "You leave Chris Martin wanting to be a better person haha... He is magnetic and so talented, to be able to shoot the s**t talk about his music, our music, the future it was something."
Meanwhile, Coldplay are set to perform at the BRIT Awards at London's The O2 tonight (22.02.17) where they are nominated for British Single and British Video for their hit song 'Hymn For The Weekend' - taken from their critically-acclaimed album 'A Head Full Of Dreams'.
It's the perfect opportunity for them to debut the new track with the EDM duo, who are in the British capital ahead of their show at Camden Roundhouse in north London on Friday (24.02.17).
Source: www.msn.com
Added by AutoAdmin
265 views