News
Guy Garvey's suicidal lows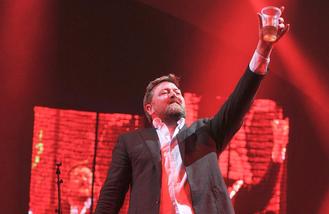 Guy Garvey's lack of success with Elbow made him suicidal.
The 42-year-old singer formed the group in 1990 while at sixth form college and shunned university to focus on his musical ambitions, but the band didn't achieve mainstream success until much later and he admitted at his lowest points the idea of becoming a "posthumous hero" appealed to him.
He said of his feelings: "It's so common. I do have a natural penchant for the dramatic.
"But there were genuine feelings of loss there and futility.
"At that age you hero-worship musicians and quite often they're dead. And that becomes an avenue of potential, y'know. Thinking, 'Maybe if I pop my clogs I'll become one of these posthumous heroes. Ridiculously selfish. Terrifying.
"And it wouldn't have f***ing mattered if i'd gone ahead with it, y;know?"
Guy - whose wife Rachael Stirling is pregnant with their first child - saw his fortunes change with 2008 album 'The Seldom Seen Kid' and though he and his bandmates turned down "millions" from advertisers wanting to use anthemic track 'One Day Like This', he admitted he won't rule out licensing the song in future.
He laughed to Q magazine: "Never say never. Somebody swings in and says, 'Your kids will never have to worry again.'? No one buys records any more, y'know?"
Guy admits he has a "strange" sensitive relationship with his bandmates, Craig and Mark Potter and Pete Turner.
He said: "The root of it is, we're pretty sensitive blokes.
"We float ideas and melodically, lyrically, where we meet is at the sensitive stuff.
"We're blokes who talk to each other, tell each other we love each other and hug each other. I do love a hug.
"I suppose it's strange, we're from a post-industrial town which is pretty hard really."
Source: www.msn.com
Added automatically
754 views