News
The Chainsmokers announce album release date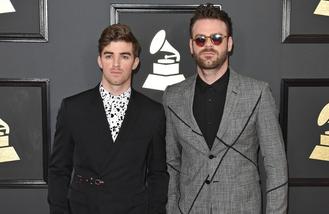 The Chainsmokers' debut album will be released April 7.
The 'Closer' hitmakers - comprised of Alex Pall and Drew Taggart - accidentally let the news slip during an interview on the Grammys red carpet over the weekend, where they also announced the LP would be titled 'Memories: Do Not Open'.
Drew, 27, told 'Entertainment Tonight': "We're ready. We've got a full album; it's going to be amazing. It's coming out April 7, was I supposed to say that?"
To which 31-year-old Alex said: "No, but it's alright."
Drew then continued: "Okay. Anyway, it's coming out really soon. It's called 'Memories: Do Not Open.'"
Previously, the duo - who have so far only released their music in shorter EPs - claimed they would only release a full studio album if their fans "demand" one.
Speaking exclusively to BANG Showbiz, they said: "If our fans demand it, then they will get a Chainsmokers album. its up to them. We have ideas and stuff but if we are going to do it, we are going to do it right. we hope."
The new album could also feature a collaboration from Coldplay frontman Chris Martin, as Alex and Drew previously shared clips on Instagram hard at work with Chris and later confirmed they could be releasing new music with the 'Up&Up' singer.
They said previously: "We don't want to jinx anything or give away too much but that guy and that experience were one of the most wonderful moments we have ever experienced.
"And we may or may not have something really special in the pipeline."
Meanwhile the Grammys saw the pair walk away victorious in their nomination for Best Dance Recording for their track 'Don't Let Me Down' featuring Daya, and said the win made them "more nervous".
Drew said: "I mean we were so nervous so that's really making us more nervous to be honest.
"I mean we got some confidence but then when you win something you realise the gravity of what the actual award is and we're really excited by it."
'Memories: Do Not Open' will be released April 7.
Source: www.msn.com
Added by AutoAdmin
338 views