News
Matt Willis to miss wife Emma presenting at BRITs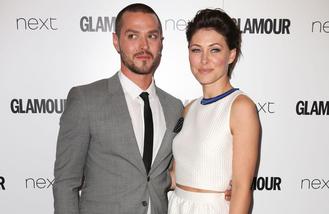 Matt Willis will miss his wife Emma presenting the BRIT Awards tonight (22.02.17).
The Busted rocker is performing with his band mates - Charlie Simpson and James Bourne - at the O2 Academy in Newcastle in North East England the same night and is gutted he'll miss out seeing the 'Celebrity Big Brother' host alongside Dermot O' Leary, but he's confident she'll do a "great" job.
The 33-year-old bass player told BANG Showbiz: "Emma's doing brilliantly, it's going really well for her, she's got the BRITs next week and she's really heavily involved with that right now. We can't go to the BRITs unfortunately as we're playing a show, but we know she's going to do great."
As both Emma and Matt's work schedules are full on at the moment, the pair haven't had much family time.
Matt would have loved to bring his two older children, five-year-old son Ace and seven-year-old daughter Isabelle, on the road with the the pop rock trio, but doesn't want to get into trouble with their schools, and he won't be taking their nine-month-old daughter Trixie Grace because she's not old enough to attend shows yet.
He previously said: "No they won't be with me, she is too young. My other kid's are at school so it is a ball ache. The teachers get their arse up if you take them out of school.
"I would I would take them everywhere with me, but apparently you are not allowed to do that you get into trouble."
The 'On What You're On' hitmaker loves being being in as touring rock band, but being away from his three little ones and 40-year-old spouse is the hardest part.
He confessed: "It's the only downside of being in a band. Being in a band is so f***ing awesome. I'd prefer to be in a band than do anything else."
The BRIT Awards, sponsored by Mastercard, are aired live on ITV1 tonight from 7.30pm.
Source: www.msn.com
Added by AutoAdmin
263 views