News
Lea Michele: 'Celine Dion possesses astonishing dignity in grief'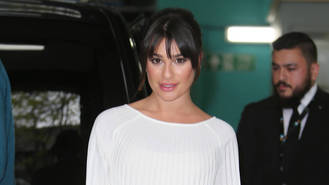 Singer-and-actress Lea Michele has the utmost respect for the way Celine Dion handled the death of her husband.
The Canadian pop legend was married to Rene Angelil for 22 years until he passed away from cancer in January, 2016 and Scream Queens star Lea suffered a similar tragedy in 2013, when her boyfriend of two years and Glee co-star Cory Monteith suddenly died.
As Lea continues to mourn Cory's death, she looks to Celine for strength and inspiration, noting the way the My Heart Will Go On singer is dealing with her own grief is proving to be a tremendous positive example of how to move on with dignity after such a painful loss.
"I look at someone like Celine and how she has held herself with such dignity and respect," Lea tells People magazine. "She just lost the love of her life, and she holds herself with such pose; and she's taking care of her voice and trying to stay true to herself. I adore her.
"And obviously Barbra Streisand (is another inspiration) — they've always been these role models for me growing up, and it made me work harder and take better care of myself to just be the best that I can be."
Lea released her sophomore album Places in March (17) and she admits her role models have also influenced her musical style.
"I've really embraced my sound with this record and my roots of being a theatrical performer and my influences of Barbra Streisand and Celine Dion," she shares. "Those women were just sources of inspiration for me, nothing that I felt like I ever had to live up to — but they were incredible inspirations."
Source: www.msn.com
Added by AutoAdmin
246 views