News
LeAnn Rimes uses blogging as a form of therapy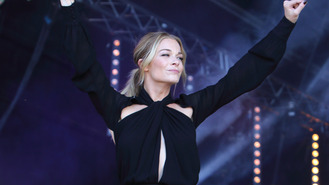 LeAnn Rimes finds writing articles for her blog to be a form of therapy.
The singer rose to stardom at the age of 13 following the release of song Blue in 1996, for which she won a Grammy Award. Though her 20s were plagued with periods of anxiety and depression, LeAnn has embarked on a soul-searching journey in recent years, and has now launched a blog named Soul of EverLe to document her new path.
"It's been very, very therapeutic for me to be able to write in a different way than, you know, to my music," she told MindBodyGreen of her blog, going on to explain that she finds blogging to be a different process to songwriting. "When I'm writing music there's a melody behind it. I need to put on some classical music while I'm blogging, honestly! It makes it an easier process for me."
One topic LeAnn has written on for her blog is the up and down relationship she's had with her mother Belinda Butler. As part of her healing process, the 34-year-old has discovered that dwelling on tough aspects of her childhood is no longer healthy.
"My mom's incredible. Now we have an interesting relationship. We go through cycles of being really close and accepting each other and annoying the c**p out of each other, like any mother and daughter can do," she shared.
Meanwhile, the star also shared that she feels much more comfortable in her own skin since undergoing medical treatment for her lifelong battle with psoriasis. LeAnn has been taking biologic drug Humira for 12 years for the painful skin condition.
"I've been clear for 12 years, which has changed my life. People always make fun of me; they're like, 'There are so many pictures of you in a bathing suit.' I'm like, 'I would walk around naked if I could. You have no idea how much I've covered myself.' It's so liberating," LeAnn smiled.
Source: www.msn.com
Added by AutoAdmin
181 views