News
Sir Paul McCartney: Kanye's got balls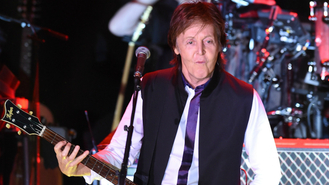 Sir Paul McCartney loves Kanye West's confidence.
The legendary Beatles musician has teamed up with the rapper on two songs so far, single Only One and hit track FourFiveSeconds which also features Rihanna.
Many were surprised by the odd collaboration, but Paul has long been a fan of Kanye's. He likes that the rapper is so outspoken, even if that means he sometimes uses a rather offensive word.
"Whether you like what Kanye does or you don't, he's an artist and it's his prerogative. His school of thought is that he's reclaimed the 'n' word, he's re-appropriated it," Paul explained to Q magazine. "I thought [his performance of All Day at the Brit Awards] was great. I really did. I love his balls. If you're gonna work with Kanye you have to accept who he is."
Paul rose to prominence with bandmates John Lennon, Ringo Starr and George Harrison before forming his own band Wings.
Despite his many career successes, the star still gets nervous when playing someone a tune for the first time.
"Shy, embarrassed, yes, if it's not finished," he noted. "The trick is to go off on your own and finish it. Go into the toilet - toilets are good. Separate yourself.
"Going from this dark moment where there's nothing to having a song, this thing that didn't exist before."
Paul's poured plenty of emotions into his tracks over the years. When asked if he worries about revealing too much of himself he confessed he does, but he quickly gets over it as that's what being a musician is all about.
The 72-year-old tries to get into several mindsets when penning a track, one of them being commercial so he can appeal to a mass audience.
Source: www.msn.com
Added by AutoAdmin
294 views