News
Carrie Underwood's mum guilt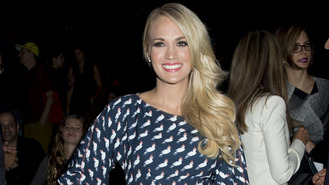 Singer Carrie Underwood feels guilty about "everything" since becoming a mother.
The 32-year-old singer became a parent for the first time when she welcomed her son, Isaiah, into the world in February (15). Carries loves nothing more than spending time with Isaiah and her husband Mike Fisher, but is often plagued by the same worries as any first-time mum.
"You feel guilty about every single thing, every decision you make, everything you do," the star told People magazine.
Carrie has been busy recently with the promotion of her new album Storyteller, which is released later this month (Oct 15). She is managing to juggle her parenting and career commitments and continues to breastfeed her son as much as possible.
"(I'll carry on breastfeeding) as long as I can take it," Carrie vowed. "It's hard. My supply is pretty nil. We have to supplement with formula. I'm doing the best that I can, you know?"
While the American musician couldn't be happier with her personal life, being a wife was never top of her priorities. Carrie wasn't like many other women, who spend their younger years planning every detail of their big day. Having been married to NHL star Mike for five years, she now can't imagine life without her beloved family.
"I never dreamt of my wedding day and the perfect guy," she said. "Then I met Mike, and I was like, 'Wow, so now I know what I was missing.' And the same with my son. I was never like, 'I want kids so bad.' And now that I have Isaiah in my life, I'm like, 'What did I do before?'"
Although she is settling into her new role as a parent, she admits to sometimes feeling far more "loosey-goosey" than she ever thought she would be as a mum.
Source: www.msn.com
Added by AutoAdmin
311 views