News
Adele hints at touring retirement in moving hometown concert programme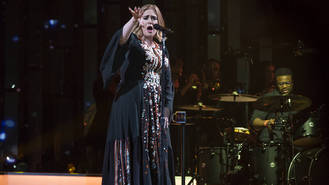 Singer Adele has hinted she may never tour again once she wraps up her current concert run.
The 15-time Grammy Award winner graced the stage at Wembley Stadium in her native London on Wednesday night (28Jun17) and performed for a record-breaking 98,000 fans, but the evening was bittersweet for concertgoers who quickly realised this could be one of her final shows.
Buried in the concert programme was a handwritten note from the star declaring the end was near for her as a performer.
"So this is it after 15 months on the road and 18 months of 25 we are at the end," the 29-year-old wrote. "Touring is a peculiar thing, it doesn't suit me particularly well. I'm a real homebody and I get so much joy in the small things. Plus, I'm dramatic and have a terrible history of touring. Until now that is!"
The Hello hitmaker went on to explain she carefully planned the final four dates of her Adele Live 2016 tour so she'd be back in London because she wanted fans in her hometown to be the first to learn of her touring retirement plans.
"I only ever did this tour for you and to hopefully have an impact on you the way that some of my favourite artists have had on me live," she continued, "and I wanted my final shows to be in London because I don't know if I'll ever tour again and so I want my last time to be at home."
The star also took the opportunity to acknowledge her fellow Londoners who are suffering following the Grenfell Tower fire tragedy, which claimed the lives of an estimated 80 people on 14 June (17) and left thousands of tower block residents homeless.
"It's been two weeks since the fire, and still the people who were affected by it are homeless," she said in a video message before the show, during which she asked fans to donate time and money to help the survivors of the blaze.
"I promise that the money we raise together will go directly to the people who are living in that block."
Adele will perform just two more dates in London to close out her massive Adele Live 2016 tour. The final gigs of the concert series are scheduled for 1 and 2 July (17).
Source: www.msn.com
Added automatically
462 views