News
Lana Del Rey self-edits song lyrics to avoid promoting negativity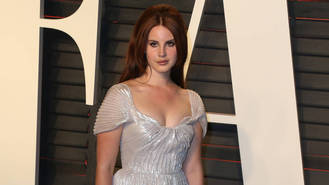 Lana Del Rey now edits her song lyrics as she wants to avoid adding more negativity into the world.
The Video Games singer is gearing up to unveil her fifth studio album, Lust for Life, which features collaborations with artists including The Weeknd, Stevie Nicks, Sean Lennon and A$AP Rocky.
While Lana is known for her cinematic sound and emotive lyrics, the star revealed during an interview with Stevie for The Americana issue of V magazine that she is much more thoughtful when it comes to conveying specific messages.
"I was never a huge self-editor - I wrote songs and then I felt like, 'Okay, well that's that.'" she recalled. "And now, I've found in the last two years that I've really been editing some of the language of some of the songs in light of the political landscape, (because) I don't want to be a part of anything that adds to that negativity."
The 32-year-old then explained that Lust for Life has a much more optimistic theme than records such as Born to Die, as evident in the title and first single, Love. Plus, her new music is different to her previous offerings, in that she claims it reflects her positive frame of mind.
"I'm at this place where I feel like I'm really present, and when I'm reading the news, I'm really reading it, whereas before I was a little bit in my own head. So, there's definitely been a feeling of freedom and lightness being in the present moment," she shared.
For Lust for Life, Lana teams with Stevie on the tune Beautiful People, Beautiful Problems. And the singer says that the tune is about rejecting consumerism and the value of artists.
"That song is special because it's really a song about surrounding yourself with people who put their art and love first, who do it for the right reasons, not just for the money," the star added.
Lust for Love is set to be released on 21 July (17).
Source: www.msn.com
Added automatically
514 views