News
Paul McCartney: 'I stopped drinking before shows after it made me forget my lyrics'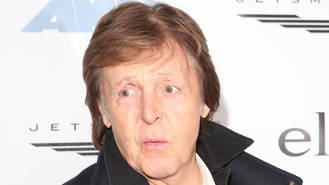 Paul McCartney stopped drinking alcohol pre-performance as it caused him to forget the words to his hits on stage.
The British musical icon admitted in an interview that he previously used to enjoy drinking wine and beer during his days with The Beatles and when he was on the road with Wings, the band he started with his late wife Linda.
However, the 75-year-old has learned from past experience to wait until after the show before enjoying a drink.
When asked if he enjoys a nerve-calming tipple prior to his concerts, Paul explained to British newspaper The Daily Mirror: "No. I used to try that, particularly in the early days of Wings when we would tour. But it didn't work – I would just forget the lyrics I didn't know anyway."
Unlike the excessive riders enjoyed by many in the music world, according to the publication the down-to-earth former Beatle's backstage rider eschews alcohol and consists of some snacks.
"I don't eat or drink before I go on because I sort of like to feel light," he shared. "Then afterwards I can get heavy and have a drink. Before I go on I don't do that.
"But I do have little sort of snacky things in the dressing room that I might just grab, like chocolate covered raisins and equal amount of salted cashews."
Meanwhile, the Live and Let Die musician and bosses at Sony/ATV music publishing have settled their legal dispute over the rights to several songs by The Beatles.
U.S. law states that the original writers of songs can reclaim the publishing rights to their material after 56 years, meaning Paul can seek the return of the rights to many of The Beatles' early hits from October next year (18).
Source: www.msn.com
Added by AutoAdmin
159 views