News
Love Zombies honoured to record with Chris Cornell producer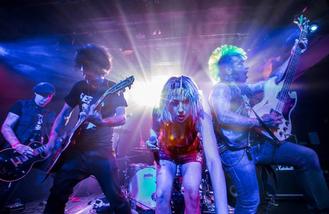 Love Zombies felt "honoured" to record their debut LP 'Passionfruit' at the same studio Chris Cornell recorded his solo stuff.
The pop punk duo - who performed at Download Festival last month - flew out to Los Angeles to work at the famous 11AD with legendary producer Alain Johannes, where the late Soundgarden and Audioslave frontman cut his 1999 solo debut 'Euphoria Morning' and were left inspired.
Speaking about working with Alain - who co-wrote Soungarden's 'Black Hole Sun' with Chris - frontwoman Hollis Mahady told Lizzie's Lowdown: "We were honoured to be there it was really, it was amazing. And it was like us three - because Joey came in and he did the drums and he banged them out in two days. And it was me Davey and Alain in this little universe for two weeks.
Anything Alain does is beautiful so, it was again - anytime some of these things happen we're like "did that happen". It's a good thing we were recording a video of it!"
Speaking about Chris, guitarist Davey Fitzsimon added: "What a voice. one of the best metal rock voices of all time and it was really interesting, Alain had a lot of, I mean Alain and Natasha co-wrote 'Black Hole Sun' with him. I mean it's yeah crazy voice."
Chris, who was 52, was found dead in his hotel room hours after finishing a gig in Detroit in May with Soundgarden.
Source: www.msn.com
Added automatically
599 views