News
Mumford and Sons return to their 'early days mentality'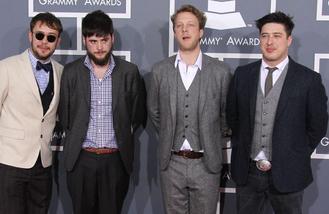 Mumford & Sons have returned to the "mentality" of their early days for their new album.
Frontman Marcus Mumford has revealed the British group are currently busily working away on new material for their fourth studio album and he said they're in a similar frame of mind to that which inspired their debut release, 'Sigh No More', back in 2009.
He shared: "We've been playing a couple of new songs a night on this tour, and we've gone back to the mentality we had when we first started out, when every song was new to the audience and we'd get away with experimenting on them almost every night - working out what wasn't quite right, which lyrics didn't work, how 60 people in a pub reacted to certain things.
"That was always part of our writing process, but on 'Wilder Mind' we kind of changed that mentality - we wrote it less on the road and more in the studio.
"People can share songs online so much more easily these days, so that experimentation is a little riskier than before, but we try not to be too precious about it."
Marcus' thoughts have been echoed by guitarist Winston Marshall, who revealed the band are happy to bide their time before releasing the follow-up to 2015's 'Wilder Mind'.
Speaking to NME magazine, Winston explained: "We all feel slightly different about the next album, but I feel like we've got a really good chunk of the record done, although there's still a lot more to do.
"If you're going to write an album of 10 songs, our attitude is that you need to write 30 and choose 10 f***ing good ones. We could probably put out a not-so-good album right now, but it's better to wait and put out a great one."
Source: www.msn.com
Added automatically
605 views