News
Chas and Dave to record new album in 2018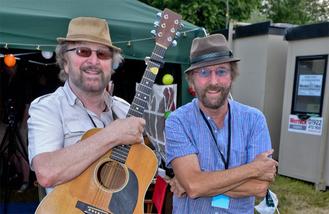 Chas and Dave are going to record a new album now Chas Hodges has got past his cancer battle.
The 73-year-old singer was diagnosed with cancer of the esophagus earlier this year and after having an operation to remove the tumour he recently completed his chemotherapy and radiotherapy sessions and made a triumphant return to the stage with his musical partner Dave Peacock at Barclaycard presents British Summertime at Hyde Park in London last week.
For the rest of 2017 the duo will be playing all of the gigs they had to postpone after Chas found out he was ill as well as a big Christmas concert this year, but once 2018 rolls around their focus will be turning to making their first LP since 2013's 'That's What Happens'.
Speaking to BANG Showbiz, Chas spilled: "We're going to perform all the re-scheduled gigs this year but we've got a big plan fox next year, we're going to be doing a new album. I've got plenty of stuff that I've been writing over the years, so we've got lots of material to record. We have never rushed into an album, and we won't do it this time."
Chas - who previously revealed he has written a track titled 'Sling Your Hook' about his cancer fight - insists the album will follow his and Dave's usual Cockney rock formula but there's a chance that lots of the songs he has already written might get swapped for newer material once they get in the studio.
And the pair are planning to head to Glasgow, Scotland, to make their new record.
'Rabbit' hitmaker Chas added: "Me and Dave are planning to record our next album up in Glasgow, we love it up there. We really want to do a new album because the older you get time really does fly.
"The last album we did we had had an idea of what we wanted to do but then we went in the studio and did a load of other stuff, so it could all change. We will have a rough plan of what we want to do, but once we get in the studio we'll get loads of new ideas and then we'll be desperate to get them down."
Source: www.msn.com
Added by AutoAdmin
269 views