News
Ed Sheeran quits Twitter over hateful comments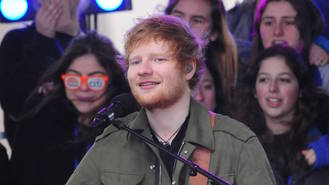 Ed Sheeran has turned off Twitter after becoming the target of vicious comments.
The singer can no longer tolerate the hateful posts aimed at him on the social media site, and now he's decided it's time to stop torturing himself.
"I've actually come off Twitter completely, I can't read it," he told The Sun on Tuesday (04Jul17). "I go on it and there's nothing but people saying mean things. Twitter's a platform for that."
The Shape of You hitmaker also revealed the harsh words ruin his day, adding, "The head-f**k for me has been trying to work out why people dislike me so much."
The star's Twitter page generates automatic posts from his Instagram account but the 26-year-old insists he'll no longer visit the site itself, and he has chosen to focus on the interactions he has with friends and family, rather than anonymous, so-called fans.
"I have people like my dad who will have a conversation with me," he noted. "I don't have to have someone calling me a whatever."
The move comes two weeks after Sheeran faced backlash online following his performance at the Glastonbury festival in England.
After thousands watched the Grammy winner take the stage, many tweeted their disappointment over his set, and some questioned whether or not he was actually performing live. Sheeran took to the site to defend himself.
"Never thought I'd have to explain it, but everything I do in my live show is live, it's a loop station, not a backing track," he wrote. "Please google x."
Yet the British pop sensation chose to remain positive. In another tweet, he shared his excitement about realising a dream to headline the festival: "Anyway, great night, great atmosphere, family, friends, fun," he added. "Love you all."
Source: www.msn.com
Added automatically
653 views