News
Eminem reveals why he almost quit rapping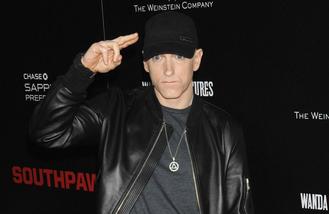 Eminem says 50 Cent's rap from '8 Mile' made him want to quit rapping.
The 44-year-old star took to Instagram on Thursday (06.07.17) to wish his protege and frequent collaborator a happy birthday and admitted that he was so impressed with 50's verse on 'Places to Go', that it tempted him to give up his own career.
He posted the video with the caption: "What do you get the guy that has everything? Happy birthday @50cent."
And in the video, he directly addressed 50, saying: "Yo, Fif. First off, I wanna say happy birthday. Secondly, I want to remind you of a verse you did that made me want to quit rapping."
He then rapped: "Picture a perfect picture/picture me in the paper/picture me starting s**t/picture me busting my gat/picture police man dey ain't gotta picture of that.
"Where I'm from its a fact/you gotta watch your back/You wear a vest without a gat/you's a target jack."
And after finishing the verse from the song, which featured on the soundtrack to his own autobiographical movie '8 Mile', Eminem said: "Yeah, so, that made me want to stop rapping, for like a long time."
50 Cent posted the video on his own account and wrote: "Thank you @eminem you know your still the best in the world to me man, I love you bro."
Meanwhile, the hip-hop legend is gearing up for his headline slot at Reading and Leeds Festivals, which takes place on the weekend of August 25 to 27 at Richfield Avenue, Reading, and Bramham Park, Leeds.
It will be his first performance at the music extravaganza in four years.
Reading and Leeds boss Melvin Benn said: "Eminem returning to Reading and Leeds is beyond exciting.
"His 2013 headline performance was incredible and I can't wait to have him back."
Source: www.msn.com
Added by AutoAdmin
254 views