News
Ed Sheeran plotting 8 Mile-style biopic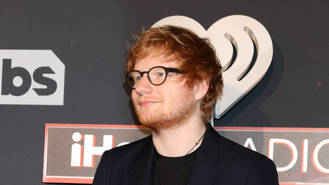 Ed Sheeran wants to tell his story in a film modelled on Eminem's semi-fictional biopic 8 Mile.
The 26-year-old popstar's popularity has never been higher, as his latest album ÷ (divide) has topped charts around the world.
Now, Ed wants to make a movie about his musical beginnings in Ipswich, England, the town near his childhood home where he performed in pubs before finding fame.
"I want to have an 8 Mile moment but 8 Mile meets Notting Hill," he told Britain's Q magazine. "Not gritty like Detroit (Eminem's hometown, where 8 Mile is set) but, like, Ipswich. I've got loads of songs about Ipswich that haven't come out so I could make a soundtrack."
Q's editors report that Ed had a meeting with movie executives to discuss film projects immediately after he performed at Britain's Glastonbury festival last month (Jun17).
Eminem's 2002 movie saw him play Jimmy 'B-Rabbit' Smith Jr., a white rapper trying to make it in Detroit, Michigan's African-American dominated rap scene, just as the real-life star did.
He also wrote and performed the film's soundtrack including Lose Yourself, which in 2003 won the Oscar for Best Original Song.
Ed has previously spoken of how rapping along to the hip-hop legend's profanity-filled album The Marshall Mathers LP helped him rid himself of a childhood stutter.
"My parents didn't know the content of the album, and I must have been nine when it came out," Ed revealed on BBC radio show Desert Island Discs. "And when you're nine and someone is saying rude stuff, you wanna learn it. So, I learned all of the album back-to-back and he raps at such a fast pace that my stammer would go when I rapped."
Source: www.msn.com
Added by AutoAdmin
206 views