News
Paris Jackson poses topless to show off new tattoo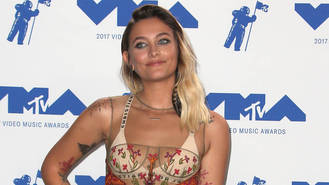 Paris Jackson has posed topless to show off her new chest tattoo.
Michael Jackson's daughter took to Instagram on Saturday (02Sep17) to post a series of pictures of the chakra tattoo in the middle of her chest and used flower emojis to cover up her bare breasts.
"Secreting blood n plasma everywhere," she captioned one of the photos showing the tattoo, which represents energy points, covered up with bandages.
The 19-year-old has not been shy about stripping down and earlier this year (17) she slammed online trolls for criticising her for sharing racy pictures on social media.
"I'll say it again for those questioning what i stand for and how i express myself. Nudity started as a movement for 'going back to nature', 'expressing freedom', 'being healthier' and was even called a philosophy," she wrote on Instagram. "Being naked is part of what makes us human. for me it helps me feel more connected to mama gaia."
"I'm usually naked when i garden," she continued. "it's actually a beautiful thing and you don't have to make it sexual the way many hollywood stars (and the media) do. Not only is your body a temple and should be worshipped as so, but also part of feminism is being able to express yourself in your own way, whether it's being conservative and wearing lots of clothes or showing yourself..."
And in July (17), Jackson went on a spiritual retreat and documented her trip by posting several topless photos of herself. In one picture she was seen kneeling in front of a Buddha statue and in another she is sitting on a tree branch.
"bark to skin," she captioned the photo.
Source: www.msn.com
Added by AutoAdmin
215 views