News
Demi Lovato too embarrassed to tell Snoop Dogg to stop smoking weed at her house party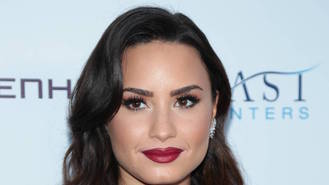 Demi Lovato let rapper Snoop Dogg smoke weed inside her house party because she couldn't bring herself to ask him to go outside.
The Heart Attack singer revealed during an appearance on The Tonight Show Starring Jimmy Fallon on Monday night (18Sep17) that the music video for her latest single Sorry Not Sorry was inspired by a party she threw at her house which got out of hand when a bunch of rappers showed up.
"One day I was like, 'I want to have people over!' I had just gone through a breakup. I was newly single. I was like, 'I want to meet people,'" she recalled, telling Jimmy how she called up one of her pals and suggested he bring some friends over.
The 25-year-old was expecting just a small gathering of friends so she was surprised when rappers including Snoop, French Montana, Ty Dolla $ign and Wiz Khalifa showed up.
"I was like, 'Wait a second. I just wanted to have a couple people over to hang out,'" she said. "And all of the sudden my house is filled with pot smoke everywhere... I was like, 'No smoking inside, get out, get out!'"
Jimmy then cut in, saying she couldn't possibly have said that to Snoop, and she replied, "I wasn't going to tell Snoop not to smoke in my house. So I was like, 'OK, Snoop. Do what you want.'"
Their presence at her house party seemed to have a lasting effect on her property as her chef came in the next day and declared, "It smells like Snoop Dogg was here."
"And I was like, 'No, he literally was!'" Demi joked.
Demi, who is sober following a stint in rehab for treatment for mental health issues, substance abuse and self-harming, split from actor Wilmer Valderrama in June 2016 after six years.
Source: www.msn.com
Added automatically
564 views