News
Taylor Swift hit with another lawsuit over Shake It Off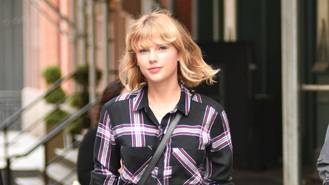 Taylor Swift is being sued by two songwriters who claim she ripped off their "haters gonna hate" line in her hit track Shake It Off.
The 27-year-old singer enjoyed massive chart success worldwide with the catchy tune, which includes the lines: "Cause the players gonna play, play, play, play, play/And the haters gonna hate, hate, hate, hate, hate."
But songwriting duo Sean Hall and Nathan Butler have now claimed they came up with the line in a hit song they penned 16 years ago. In a new lawsuit, the accomplished songwriters allege that 20 per cent of Shake It Off is their 2001 song Playas Gon' Play, due to the lyrics "Playas, they gonna play and haters, they gonna hate".
While the pair wrote the song, it was actually recorded by a popular girl group of the time, 3LW, and hit number 81 on the Billboard Hot 100 chart.
According to TMZ.com, Hall and Butler are seeking substantial financial damages from Swift.
However, her representative has strenuously denied their claims, stating: "This is a ridiculous claim and nothing more than a money grab. The law is simple and clear. They do not have a case."
Hall and Butler are successful songwriters in their own right. Butler has worked with the Backstreet Boys, Christina Milian, Aaron Carter and Victoria Beckham in the past, while Hall has teamed up with Justin Bieber, Lionel Richie, Pink and Maroon 5.
This isn't the first time Swift has been sued over her Shake It Off lyrics. In 2015, R&B singer Jesse Graham filed a $42 million (£31 million) lawsuit against Swift, alleging that she stole the "haters gonna hate" line from one of his songs.
However, the copyright case was dismissed by U.S Magistrate Judge Standish, who said in court: "Upon consideration of the Court's explanation in Part II, Graham may discover that mere pleading Band-Aids will not fix the bullet holes in this case. At least for the moment, Defendants have shaken off this lawsuit."
Source: www.msn.com
Added by AutoAdmin
396 views