News
Demi Lovato: 'I'll never open up about my sexuality'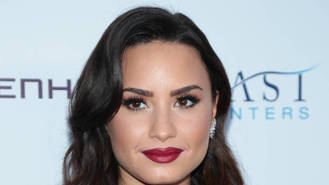 Demi Lovato has stumped fans by insisting she'll never come clean about her sexuality, because it's no one's business who she dates.
The Cool For the Summer hitmaker has always found love with guys, Joe Jonas and Wilmer Valderrama are among her past boyfriends, but recent gossip has suggested she's interested in a same sex romance.
She was asked about the chatter during a new interview with gay news outlet PrideSource, and made it clear no one will ever truly know if she's gay, straight or bisexual.
"I love who I love," she said when asked how she would define her sexuality. "I just feel like everyone's always looking for a headline and they always want their magazine or TV show or whatever to be the one to break what my sexuality is.
"I feel like it's irrelevant to what my music is all about. I stand up for the things that I believe in and the things that I'm passionate about, but I like to keep my personal life as private as possible when it comes to dating and sexuality and all that stuff, just because it has nothing to do with my music.
"Unfortunately, we live in a world where everyone is trying to get that soundbite and I am purposefully not giving the soundbite."
But she urges anyone who wants to know more to watch her upcoming YouTube documentary, Demi Lovato: Still Complicated, teasing, "If ever I want to talk about it, I want it to be on my own terms."
Demi also opened up about what her GLAAD Vanguard Award means to her - the singer collected the honour at the inaugural Trailblazers event in 2014, honouring LGBT civil rights pioneers.
"It felt really amazing that I was being awarded by a whole community of people," she smiles. "I wasn't seeking an award for it. I was just doing what is right. And people should be accepting of the LGBT community. It's a no-brainer for me. So, defending and standing up for the LGBT community is something that I've always been fearless to do because it's just the right thing to do."
Source: www.msn.com
Added by AutoAdmin
445 views