News
Fergie stays centred during marriage split with regular meditations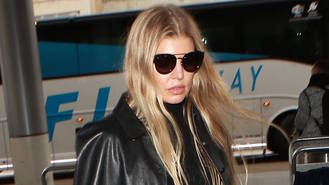 Fergie has been relying on a 21-day meditation program to keep her centred as she deals with her split from husband Josh Duhamel.
The stars announced the sad news of the end of their marriage last Thursday (14Sep17), revealing they called it quits months ago. Fergie made an appearance at The Tuck Room at iPic Theaters in New York for a promo event for her Double Dutchess Visual Experience on Wednesday night, and dealt with numerous questions about the break-up.
While she revealed that she and Josh are still on good terms, Fergie told U.S. TV show Extra that she has turned to New Age icon Deepak Chopra and TV legend Oprah Winfrey's Oprah & Deepak's 21-Day Meditation Experience to help her stay mentally balanced as she deals with the split.
"Desire and Destiny, it's the Oprah and Deepak Chopra 21-day meditation... it's quite amazing, everything has to have meaning for me," she smiled. "Thank you Oprah, thank you Deepak. I put it on and it just re-centers me."
According to Deepak's website, the 21-Day Meditation Experience "makes meditation easy, fun, and inspiring", with free 20-minute daily sessions.
Another way Fergie has been coping with the end of her marriage is to throw herself into her work. Her new album contains some emotional songs which many have taken to be referencing her and Josh's break-up and while the singer didn't directly confirm that, she did admit it has helped to channel her emotions into her songs.
"Josh and I are great friends, a lot of those emotional songs are his favourite songs on the album, they have been there for a while," she said. "This was the right place for these songs to come out… you got to let it out somewhere as long as it comes out with love, I feel like what are you going to do."
Throughout their split, Josh and Fergie have ensured that their four-year-old son Axl is happy and settled. And when it comes to their change in situation, the former Black Eyed Peas star said it hasn't been altered that much - it's just that they "aren't a romantic couple anymore".
"We're great friends, Josh and I, there's so much love that we have for each other," she explained to Entertainment Tonight. "We really like each other, we have fun with each other. We're just not a romantic couple anymore."
"But we are still Axl's parents through and through, and our families - each other's families, the cousins, my nieces and nephews - it's all the same. So that's the only thing that's changed."
Source: www.msn.com
Added by AutoAdmin
169 views