News
Lily Allen: 'The #MeToo movement has not hit the music industry'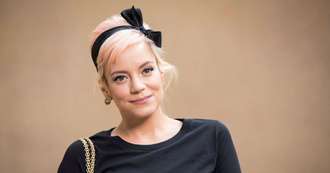 Lily Allen is not convinced the #MeToo movement against sexual misconduct has dented the music industry yet.

The Smile singer insists it's difficult to solve the problem of harassment in the music industry because there is no one to turn to for help.
"It's probably because we're all in long term contracts," she tells the New Statesman. "There isn't a HR (human resources) place to go to because everyone's self-employed. You can't go to the record company, nobody there's looking after you. Management's not looking after you. You're all on your own."
© AP Lily Allen poses for photographers prior to the Chanel ready-to-wear fall/winter 2018/2019 fashion collection presented in Paris, Tuesday March 6, 2018. (Photo by Vianney Le Caer/Invision/AP)Lily also feels drug use and alcohol make harassment in the music industry an even bigger problem, because so many people are either high or drunk.

"I think the culture of music is, whether we like it or not, geared around alcohol and drugs," she adds. "From the making of music in the studio - people want to loosen up and drink, to get themselves into the writing space - to when it comes to playing live, what makes it tick is the booze."
"People feel like they can get away with certain things because there is lots of alcohol around and alcohol can be blamed, rather than individuals," she continues. "On both sides I think women can feel, 'Oh I can't absolve myself of responsibility because I drank'."
© Getty Allen has previously been critical of the #MeToo movement, insisting it doesn't seem that everyone is taking it seriously. 

"Nobody's changing," she said in an interview with Vice in March (18). "Everybody's going, 'This has happened to me, this is really awful', (but) what's happening as a result? Like, oh there's some public shaming going on: 'Oh no, oh my God, you've been outed on Twitter'. That doesn't change any of what's happened."
Source: www.msn.com
Added automatically
685 views