News
Taylor Swift says dispute with Scott Borchetta and Scooter Braun felt like divorce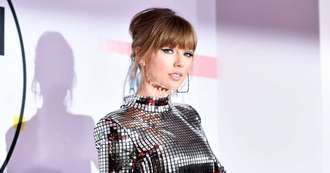 Taylor Swift has opened up about the deeper meaning within a few of her Folklore songs. 
Speaking to Entertainment Weekly, the Grammy-winning pop behemoth confirmed that songs "My Tears Ricochet" and "Mad Woman" were inspired by her former Big Machine label boss Scott Borchetta and music industry bigwig Scooter Braun.
"I found myself being very triggered by any stories, movies, or narratives revolving around divorce," she said, while acknowledging that she had not experienced a marriage dissolution firsthand.
"I think that happens any time you've been in a 15-year relationship and it end in a messy, upsetting way," she continued.
"My Tears Ricochet" in particular is told from the perspective of a ghost at her own funeral, while "Mad Woman" is themed around gaslighting, calling out a man who tries to discredit a woman he terms as being "crazy".
"All of a sudden this person that you trusted more than anyone in the world is the person that can hurt you the worst," the "Lover" singer told EW, name-checking the 2019 movie Marriage Story as another source of inspiration.
"Then all of a sudden the things that you have been through together, hurt. All of a sudden, the person who was your best friend is now your biggest nemesis, etc. etc. etc. I think I wrote some of the first lyrics to that song after watching Marriage Story and hearing about when marriages go wrong and end in such a catastrophic way. So these songs are in some ways imaginary, in some ways not, and in some ways both."
The music manager purchased Swift's former label – and the masters to all seven of her first albums – allegedly without her knowledge, in June 2019.
"This is my worst-case scenario," Swift revealed at the time on Tumblr. "This is what happens when you sign a deal at fifteen to someone for whom the term 'loyalty' is clearly just a contractual concept. And when that man says 'Music has value', he means its value is beholden to men who had no part in creating it.
"When I left my masters in Scott's hands, I made peace with the fact that eventually he would sell them," she continued at the time. "Never in my worst nightmares did I imagine the buyer would be Scooter. Any time Scott Borchetta has heard the words 'Scooter Braun' escape my lips, it was when I was either crying or trying not to. He knew what he was doing; they both did. Controlling a woman who didn't want to be associated with them. In perpetuity. That means forever."
Swift, who is now signed to Universal Music Group, has been re-recording all of her old albums. Earlier last month, news broke that Braun had sold all of Swift's masters to a private equity for a reported $300 million.
Source: msn.com
Added automatically
258 views