News
John Williams's music is what great cinema sounds like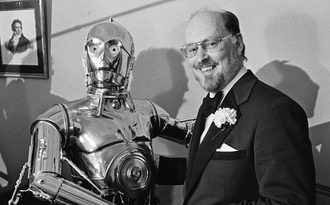 The first time I recognised John Williams, I thought he was someone else. Two people, in fact. As a child I was one of those tragic cases who gets to know their parents' classical CD collection back to front, and when I went to see Hook, its fantastically vivid score rung a few bells. 
During the scene in which Julia Roberts' Tinkerbell flies in through the window, knocks over the furniture and swats Robin Williams in the face with a rolled-up newspaper, my smarty-pants 10-year-old self's ears pricked up: those surging strings and fluttering flutes in the background were from Stravinsky's The Firebird! 
A few minutes later, it happened again. As Bob Hoskins' Smee carried Dustin Hoffman's freshly sharpened steel talon back to the ship, followed by a conga-line of pirates – that jaunty ditty jostling them onwards was Strauss's Persian March, wasn't it? How wonderful, I remember thinking, that the filmmakers had managed to find just the right pieces to match those moments from the entire historical sweep of classical music.
I share this memory not to illustrate what a ghastly little nerd I once was, but because it pinpoints one of the things about Williams's work I treasure most: as a child, I was able to appreciate his genius before I even knew his job existed. Williams's announcement this week that his score for the forthcoming Indiana Jones film will likely be his last heralds what will surely be the saddest retirement in cinema this year – though also, considering he turned 90 in February, one for which we should have been braced. (Brad Pitt has also announced that he's in "the last leg" of his career, but that seems less significant.)
This is end-of-an-era stuff in a way that doesn't apply to any other living film composer: to my generation, Williams's music is simply what great cinema sounds like. His scores for Star Wars, the 1978 Superman, Home Alone, plus his collaborations with Steven Spielberg during the pair's two-decade run from the mid-1970s to mid-90s made amply sure of that.
Lucas knew Williams's music was so integral to Star Wars that he made it the very first thing we experience from that universe – even before our eyes have had time to take in the title, our ears have already been treated to that triumphant opening chord.
But the DNA of Williams's Star Wars score goes far beyond cinema itself. Remember the heart-attack ostinato that accompanies the early Star Destroyer flyover? Have a listen to the closing minute of Mars, from Gustav Holst's The Planets. As for the heat-haze of woodwind that accompanies shots of the Tatooine desert? There's Stravinsky again: specifically, The Sacrifice from The Rite of Spring. The climactic medal ceremony? Strike up The Throne Room from Korngold's score for The Sea Hawk, with a little of Elgar's Land of Hope and Glory sprinkled on top. 
Photo: provided by The Telegraph
Source: msn.com
Added automatically
213 views