News
Glastonbury and Worthy Farm through the years – in pictures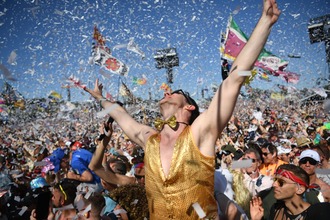 As revellers pour through the gates of Worthy Farm for Glastonbury 2022, celebrations are underway for the festival's belated 50th anniversary celebrations.
Glastonbury turned 50 in 2020, having begun as the Pilton Pop, Folk and Blues Festival in September 1970 with 1,500 people in attendance. Admission cost £1, which included free camping and free milk.
To mark the occasion, Francis Whatley, the producer and director of the David Bowie Five Years trilogy, is re-sharing his social and musical history, The World's Greatest Music Festival.
The story of Glastonbury is told through the festival's principal curators, Michael and Emily Eavis, and some of the thousands of musicians who have performed at Worthy Farm over the years, including Radiohead's Thom Yorke and Ed O'Brien, Dua Lipa, Fatboy Slim, Noel Gallagher, Coldplay's Chris Martin, and Stormzy.
The documentary will be available on BBC iPlayer for 30 days from Sunday 19 June.
Take a look at some defining images of Glastonbury from over the years. Make sure you also follow The Independent's live coverage of this year's event.