News
Maneskin dismiss queerbaiting accusations as 'stupid'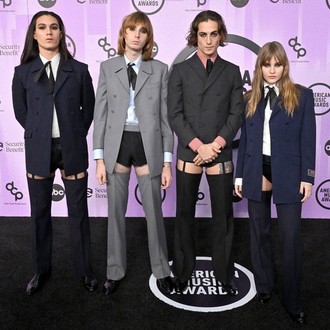 Maneskin have rejected allegations of queerbaiting.
While speaking to The Guardian for an interview published over the weekend, members of the Italian rock band responded to claims that they have employed the tactic, in which creators hint at LGBTQ+ representation but do not actually depict same-sex relationships in their work.
Accordingly, bassist Victoria de Angelis firmly denied any instances of queerbaiting within the group.
"There are some cases where it happens, but sometimes (the accusations are) so extreme. It's stupid for queer people, who should fight these stereotypes, to label it as this and create more hate," she said. "The fact (guitarist Thomas Raggi and frontman Damiano David) are straight doesn't mean they can't wear make-up. Or heels."
In addition, Damiano argued that he and Thomas are allies of the community.
"Everything me and Thomas do is always filtered by two people who are (queer). Of course, we don't experience the same stuff, but we live every day very closely with people from the community," the singer continued.
Elsewhere in the interview, Victoria addressed the conservative backlash the band has faced in Italy.
"They're intimidated by the fact that someone can wear make-up or high heels or appear half-naked or not be straight," she insisted.
Photo: Cover Media
Source: Cover Media
Added automatically
24 views