News
Jeff Goldblum taps Kelly Clarkson for upcoming EP Play Well With Others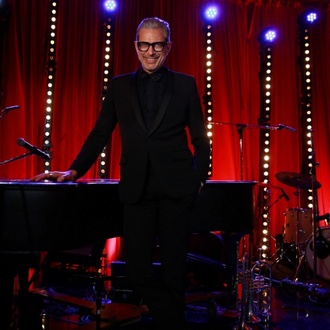 Jeff Goldblum has recruited Kelly Clarkson for his upcoming EP 'Play Well with Others'.
The 70-year-old Hollywood star - who is a keen pianist - has reunited with his long-time band The Mildred Snitzer Orchestra for the new collaborative mini album set for release on March 24.
The 'Since U Been Gone' hitmaker appears on a cover of Cole Porter's 1930s classic, 'Don't Fence Me In'.
The song opens with the lyric "Wildcat Kelly", and Jeff had asked her to do the cover during an appearance on 'The Kelly Clarkson Show'.
The lead single is a take on 'Moon River' from Audrey Hepburn's 1961 classic 'Breakfast at Tiffany's' with Atlanta singer Mattiel Brown, and is out now.
Mattiel - who has a song called 'Jeff Goldblum' - said: "I'm thrilled to be working with a like-minded artist of Jeff Goldblum's incomparable calibre. I couldn't have imagined this outcome from penning some lyrics about an old boyfriend, but the stars seem to have aligned themselves."
The EP also includes a version of the Jazz classic 'I Wanna Be Around' with Brazilian star Rodrigo Amarante.
Jeff said of the project: "The experience of collaborating with these fantastic singers has made me feel that I have revealed myself to myself, and has left me utterly drenched and purged."
In 2019, Jeff recorded jazz number 'The Thrill is Gone' with pop star Miley Cyrus.
He said at the time: "Hearing the one and only Miley Cyrus sing one of our arrangements is both surreal and mesmerising. I can't stop listening. It's perfect."
The duet was featured on his second studio album 'I Shouldn't Be Telling You This'.
The 'Play Well With Others' track-listing is:
1. 'A Baptist Beat' (Instr.)
2. 'Don't' Fence Me In / Strollin'' – Featuring Kelly Clarkson
3. 'Moon River' – Featuring Mattiel Brown
4. 'In The Wee Small Hours Of The Morning' (Instr.)
5. 'I Wanna Be Around' – Featuring Rodrigo Amarante
6. 'Lazy Afternoon' – Featuring Freda Payne
Photo: Music-News
Source: music-news.com
Added automatically
69 views