News
Adele breaks down in tears as she helps couple reveal gender of baby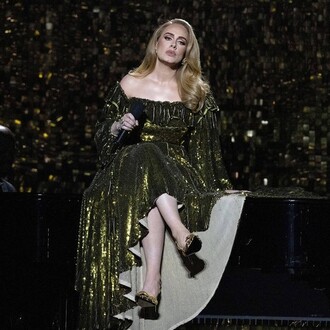 Adele broke down in tears as she helped a couple reveal the gender of their baby on stage on Sunday.
The music megastar sobbed on stage during her Las Vegas show on Sunday after granting a special wish for an expecting couple in the audience.
Adele, 35, is currently in the middle of her Weekends With Adele performances, which are being held in Las Vegas. During the show on Sunday night, the singer helped the New York couple out by announcing the gender of their baby.
In a clip posted by the father-to-be on Instagram, Adele can be heard agreeing to help the couple out after spotting their sign in the crowd which read, "Adele will you do our gender reveal."
The star invited the couple to the front of the stage and humorously told them, "Do you know, no one is really allowed signs in here, I am just obsessed that you got one in."
The Rumour Has It hitmaker then read out the piece of paper that was handed to her and announced that the couple were expecting a baby boy. The star sweetly embraced the soon-to-be parents and began sobbing.
"That was amazing," Adele gushed. "I'm so happy for you! I'm so happy for you! That's so emotional, oh my God."
She then hilariously requested of the couple, "If and when I get pregnant will you do my gender reveal?"
Weekends With Adele is the singer's first residency, held at The Colosseum at Caesars Palace in Las Vegas. The shows began on 18 November 2022 and will run until 4 November 2023, thanks to an additional 34 new shows.
Photo: Cover Media
Source: Cover Media
Added automatically
59 views