News
Marshmello and Jonas Brothers team up with Coca-Cola to give fans a taste of the future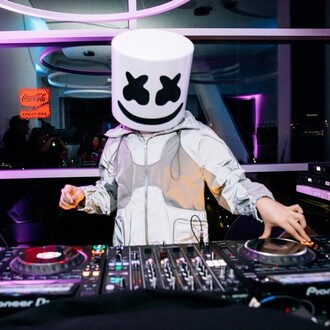 Marshmello and the Jonas Brothers have teamed up with Coca-Cola to give fans a taste of the future at the MSG Sphere in Las Vegas this weekend.
The stars are partnering with Coca-Cola for their 'Destination Y3000' experience in Las Vegas, which aims to virtually transport attendees to the year 3000 through a series of futuristic encounters.
The DJ, who collaborated with Coca-Cola Creations last year to create its inaugural artist-co-created beverage, is performing at the event. Meanwhile, the Jonas Brothers will appear as interactive holograms.
It marks the recent introduction of Coca-Cola Y3000 Zero Sugar, a new flavour created in collaboration with both human and artificial intelligence.
From 9 until 13 November, the venue's Exosphere will feature striking visuals, immersing fans in a futuristic cityscape defined by Coca-Cola. The futuristic city will also showcase architecture inspired by the Y3000 AI Cam, an artificial intelligence-powered feature encouraging fans to capture and transform their surroundings into futuristic imagery. Fashion lovers will also be able to try on a future-inspired capsule collection by the boundary-pushing fashion brand AMBUSH via interactive mirrors.
Oana Vlad, Senior Director, Global Strategy, The Coca-Cola Company, says: "When we launched Coca-Cola Y3000 Zero Sugar, we made it possible to explore the future through the lens of AI technology, and now we are bringing futuristic experiences to life in the physical world for fans to enjoy."
Coca-Cola Y3000 Zero Sugar is currently available for a limited time in select markets globally, including the United States, Canada, Europe, Australia, China, and Africa.
For further information and to RSVP for the 'Destination Y3000' experience in Las Vegas, visit cokeurl.com/y3000event.
Photo: Cover Media
Source: Cover Media
Added automatically
23 views