News
Lily Allen claims her husband David Harbour gets more fan attention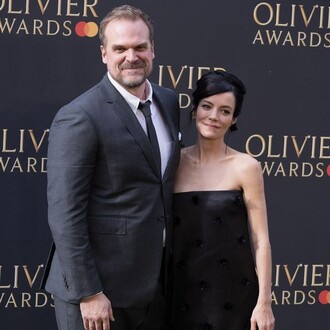 Lily Allen has claimed her husband David Harbour receives more attention from fans.
While speaking to Grazia for a new interview, The Fear singer joked that she often acts as the photographer when the Stranger Things actor gets stopped by fans.
"To clarify, what they mean is: can you take a picture of me - with your husband? They don't even notice me," Lily said with a laugh. "I'm just the photographer."
The English singer, who shot to fame in 2006 after releasing her single Smile, admitted that she enjoys not being the centre of attention when she is with her husband.
"No one knows who I am. Growing up with the attention that I had in my twenties can lead to, sort of, narcissistic feelings," the 38-year-old singer explained. "It's nice to be in a relationship where somebody else gets all of that attention. It's good for my ego."
The duo tied the knot in a Las Vegas ceremony in September 2020.
Lily shares two children, Ethel, 11, and Marnie, 10, with her ex-husband Sam Cooper. During the interview, she opened up about slowing down her career to be present for her children.
"I'm a mum, really - it sounds so tragic and sad. I sort of feel like I've had my career. I know I'm only 38," the London native said. "I want to be around my kids. I want to break a cycle in terms of, you know, showing up for my children."
Photo: Cover Media
Source: Cover Media
Added automatically
24 views