News
Wood: I was frightened by Joplin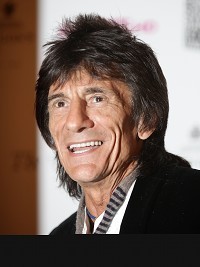 Ronnie Wood has revealed how he was "frightened" when Janis Joplin chased him.
The Rolling Stones guitarist was caught off guard and tried to escape when the late blues songstress, brandishing a bottle, followed him at a party in Detroit.
"It was really frightening when she was chasing me - it was like a cartoon character chasing you with a bottle of Southern Comfort, like 'Aargh', and Big Brother from the Holding Company got me out of the bathroom window," he said.
Ronnie, who has been friends with many rock stars like Jimi Hendrix and reggae greats Jimmy Cliff and Bob Marley, regrets not saying hello to Elvis Presley when the Jailhouse Rock singer was in hospital.
"I went along to say, 'I'm here to see Elvis', and they were like 'Oh no' and I went 'Alright'. At the time there was Jimmy Page and Robert Plant in there with him in the room," he recalled.
"I found this out later. I knew at the time I was going to regret it but I didn't want to name-drop and do the whole 'Do you know who I am?'"
Now with his own radio show, The Ronnie Wood Show, on Absolute Radio, Ronnie hopes former bandmates Mick Jagger and Keith Richards will drop in.
"They've all said they'd like to do it but it's just a case of getting all the schedules to coincide," he said.
"Keith said I'll do the show and Mick and Rod. So it's just a matter of trapping them down."
The Ronnie Wood Show is on Monday to Thursday at 4pm, Friday at 8pm and Saturday at 10pm.
Source: music.uk.msn.com
Added by AutoAdmin
977 views