News
Rocker Jones stars in Anna Nicole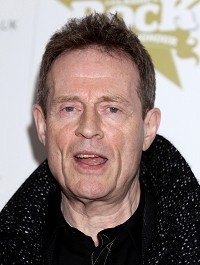 John Paul Jones is appearing on stage at the Royal Opera House performing in a tale of sex, drugs and Playboy bunnies.
The former Led Zeppelin bass guitarist is part of a jazz trio which will play alongside the orchestra during performances of Anna Nicole at the venue in Covent Garden, central London.
The opera, which opens tonight, is based on the life and death of Playboy centrefold Anna Nicole Smith.
The model, who hit the headlines when she married an 89-year-old Texan oil billionaire while working as a lap dancer, died aged 39 from a drugs overdose in 2007.
Director of opera Elaine Padmore said the story was "like a modern day parable about the culture of celebrity".
She added: "So many of the great classic operas take a real story and turn it into something with a universal application and what happened to Anna Nicole echoes the virulent nature of the culture of celebrity today. She was the ultimate overnight starlet who crashed and burned.
"She pursued fame and everything it promised, but it shows that you must be careful what you wish for. Anna Nicole may have enjoyed fame, but in the end it ran her and then it destroyed her. Her story is an opera for our times."
One of the show's writers, Richard Thomas, who also co-wrote Jerry Springer: The Opera, said he thought some critics might "be a bit sniffy".
He added: "She was certainly no angel - she was the patron saint of parties. But deep down, she was also just a single mum trying to do the best for her family in the only way she knew - by earning money, in whatever way she could. But, as she discovered, there is no such thing as an easy fast buck."
The part of Anna Nicole is played by Dutch soprano Eva-Maria Westbroek.
Source: music.uk.msn.com
Added by AutoAdmin
1260 views