News
Ne-Yo defends his latest record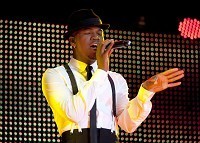 Ne-Yo has admitted most people "didn't get" his latest album.
The busy 31-year-old, who also appears in the sci-fi film Battle: Los Angeles, said he found it hard to juggling acting and making his new record Libra Scale.
"It's almost impossible to take the amount of focus to shoot a film like this and the amount of focus it takes to put an album together and do them at the same time," he revealed.
"I won't say that was why the Libra Scale album didn't do as well as I expected it to, but I will say it had a lot to do with me not being able to pay as much attention to the process of putting together the Libra Scale album, you know, because my focus was absolutely in another place in regards to this film."
While the album hasn't enjoyed the same scale of success as his first three offerings, Ne-Yo insists he is happy with the end product.
"I don't think the album's bad at all, I think it's a pretty solid album," he added.
"Some people got (and understood) it. Some people didn't. The majority of people didn't."
Source: music.uk.msn.com
Added by AutoAdmin
918 views