News
FBI inquiry into Notorious death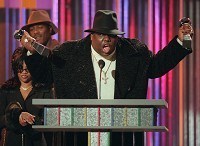 FBI agents on both coasts took part in an investigation to find out who gunned down rapper Notorious B.I.G. and whether any Los Angeles police officers were involved, according to recently released records.
The nearly two year inquiry ended in early 2005, after federal prosecutors concluded there wasn't enough evidence to pursue a case against any officers or another man implicated in the rapper's 1997 death.
The decision was made after agents in LA, San Diego and New York tried to track down potential suspects and witnesses who might shed new light on the unsolved killing that came months after another rap superstar, Tupac Shakur, was shot dead in Las Vegas.
The investigation started out as a civil rights violation and public corruption review, but efforts were made to solve the homicide case. The FBI's file - released on its website The Vault - included police reports.
Informants told the FBI that the killing of B.I.G., whose real name was Christopher Wallace, may have been aided by corrupt police officers. The files include several mentions of sources who wouldn't talk to LA police investigators about his death because of suspicions about corruption.
The records showed agents conducted surveillance on one man in San Diego who they thought may have fired the fatal shots at the rapper, and even went through his mail and rubbish. They also showed an agent consulted frequently with a civil attorney who was pursuing a wrongful death on behalf of the star's estate against the city of LA.
No one has been arrested for the killings of B.I.G. or Tupac. The one-time friends became rivals and instigators in an East Coast-West Coast rap rivalry during the mid-1990s.
B.I.G. was shot in March 1997 after leaving an LA music industry event.
Source: music.uk.msn.com
Added by AutoAdmin
945 views