News
Show goes on despite foot: Jessie J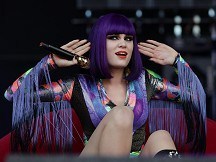 Jessie J has insisted her injuries will not stop her delivering a stomping show.
Despite her left leg being in a sparkly cast, the chart-topping singer plans to perform to the best of her ability at the launch of the new BlackBerry 7 collection and music-sharing service BBM Music at Sketch in London.
"My leg is very sore, it's really swollen," she said before the launch.
"I am taking it easy as much as I can. But I'm all right, I am pulling through. Adrenaline can take you to places that you don't think you can go."
The London-born star - whose real name is Jessica Ellen Cornish - has been divided between taking time off to recover and keeping fans happy after pulling out from a number of music festivals in the summer.
"It's tough because on the one hand, my fans want me to rest and get better, but I cancelled some things and they go a bit crazy," she admitted.
"I'm just trying to do as much as I can. I am trying to do shows sitting down and taking my time."
Jessie's foot was put in a cast after she ruptured several tendons in her left foot during rehearsals. She has since had a bone transplant.
"When I came around from my anaesthetic, my doctor said that the inside of my foot was like a Crunchie bar. They had to take all of it out, and had to put somebody else's bone in and they put a little plate on the other foot with four bolts so it is pretty sore," she explained.
The 23-year-old says she is looking forward to starting physiotherapy, and getting her left foot on the mend.
Source: music.uk.msn.com
Added automatically
1012 views